Welcome to JS Miami Media: Your Source for Florida News
JS Miami Media is a dynamic media company dedicated to providing comprehensive coverage of Florida's latest news and events. Our mission is to keep you informed about the happenings in the vibrant South region of the United States, particularly focusing on Florida. As a proud partner of "grupomedios," one of the largest media companies, we ensure that you receive accurate and timely information.
Stay up-to-date with the latest news, insightful articles, and engaging multimedia content through our diverse platforms. Whether you're interested in politics, business, entertainment, sports, or local events, JS Miami Media has got you covered. Our team of experienced journalists and dedicated contributors work tirelessly to bring you the most relevant and compelling stories.
With our finger on the pulse of Florida, we strive to provide an immersive experience, connecting you with the heart and soul of this vibrant state. Through our comprehensive coverage, you'll gain valuable insights into the culture, economy, and lifestyle of the Sunshine State.
Join us on this exciting journey as we deliver unparalleled news coverage and captivating storytelling. Whether you're a Florida resident, a visitor, or simply interested in staying informed about this captivating region, JS Miami Media is your go-to source for all things Florida.
Experience the power of media with JS Miami Media. Stay connected, stay informed, and stay inspired.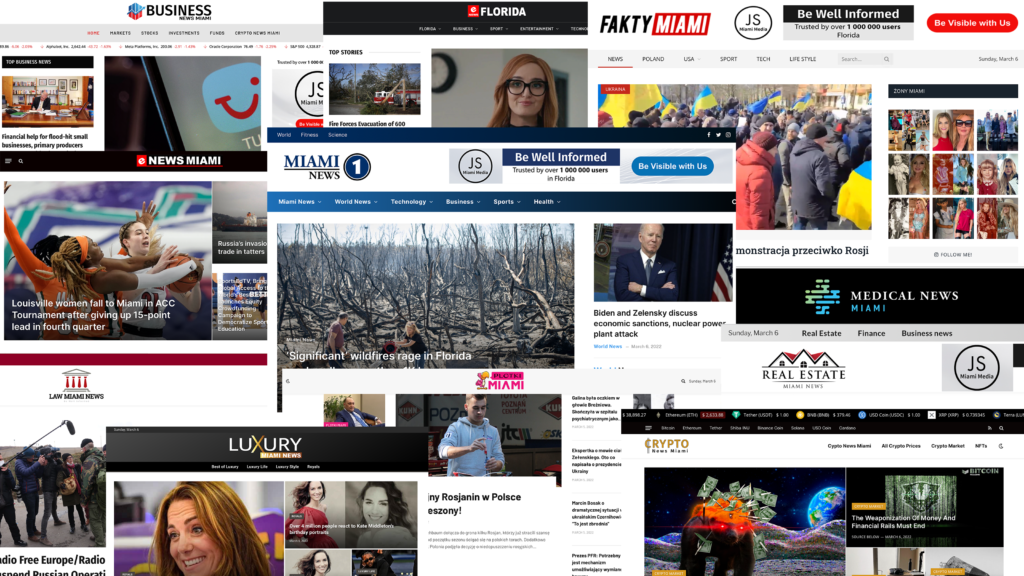 JS Miami Media is a leading provider of comprehensive book services, specializing in creating, writing, and distributing captivating literary works across 51 countries. With our deep expertise in the publishing industry, we offer a seamless and tailored approach to bring authors' visions to life and reach a global audience. Our dedicated team of professionals understands the intricacies of storytelling and works closely with authors to develop compelling narratives that resonate with readers worldwide. Through our extensive distribution network, we ensure that books are placed in the hands of eager readers in diverse corners of the globe. Whether it's fiction, non-fiction, or any other genre, JS Miami Media is your trusted partner for turning literary dreams into reality and expanding your reach to international markets.